Moodifier 0-10V dimmer (original)
Control any type of lighting over the internet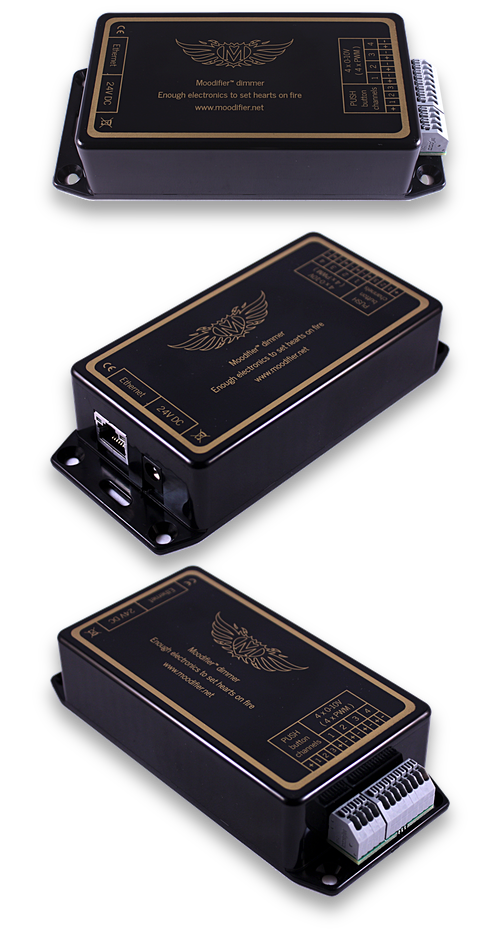 Moodifier™ 0-10V dimmer is a networked lighting controller for everything that can be controled with the 0-10V and 1-10V lighting control standard. Together with the included Moodifier software it opens up new possibilities for how traditional lighting can be controlled and dimmed.
With the Moodiffier dimmer, you can control almost any standard lighting with computers, mobile phones and other networked devices, from anywhere. With the Moodifier application you can easily create your light settings and schedule lights as well as get the lights to blend together with music, TV, movies, games and other digital media.
Controls most things
0-10V dimming is a long-established, proven and easy to use lighting control technology. 0-10V control is often used to control lighting in homes, offices and industrial environments. With the 0-10V technology you can control everything from halogen lamps, fluorescent lamps, transformers and LED power supplies to smoke machines, electric motors and other mechanical equipment.
The Moodifier dimmer makes it possible for you to, via the internet, control virtually all devices that currently support the 0-10V and 1-10V control standards.
Easy installation
Using the Moodifier™ dimmer is simple. Connect one or more of the four 0-10V dimming channels to the dimmable devices you want to control with 0-10V. Then connect the power suply and ethernet cable. The Moodifier application will automatically find the Moodifier dimmer on the network so that you can start to control the connected devices, however you want. If you also want the abillity to control the lights with traditional wall switches you simply connect regular push button wall switches to the push button channels on the Moodifier dimmer.
Technical Specification
Moodifier dimmer connections:
• 1 Network port (Ethernet)
• 1 power supply port.
• 8 connectors to connect 4 independantly controlable series of 0-10V controlable devices.
• 4 connectors for connecting up to 6 push buttons.
Moodifier dimmer, technical data:
| | |
| --- | --- |
| Power supply | 12-24V DC |
| 0-10V control channels | 4 |
| Voltage per control channel | 0-10V |
| | |
| Push button functions | 3 (6) |
| Network | Ethernet 10/100 |
| | |
| Surge Protection | Yes |
| Overheat protection | Yes |
| Conforms to European EMC regulations | Yes |
| CE marked | Yes |
| Dimensions (LxWxH) | 112 (136) x62x30mm |
| Ambient temperature (operation) | 0-35°C |