The Free Moodifier Application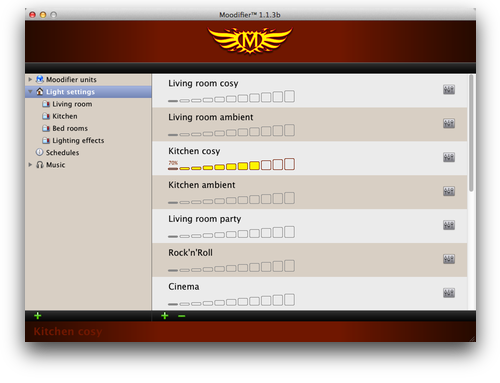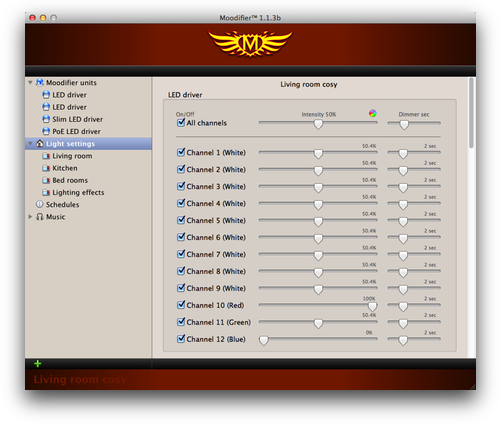 Scheduling and automation, sunrise & sunset
The application can easily schedule and automate your lighting to be dimmed or switched on and off on given days at given times. The built in astronomical clock also makes it easily to coordinate your lighting with sunrise and sunset, every day throughout the year.
Just choose the day and time you want a particular light setting to be activated and hey-presto, it is scheduled and automated.
Your media center's best friend
Today most of us have a home computer or media center that is always running. All you need to do is install the Moodifier application on your home computer or media center. With the application running, you can schedule your lights, control the lighting from web browsers, mobiles or other network connected devices. You can also let your lighting interact with all your digital media in exciting new ways.
Music and playlists like you've never seen them before
Add your favorite music to a light setting with a simple drag and drop. Set how you want the lights to react to the music and enjoy musical experiences that stand up against any night club. The lights will pulsate and flash in perfect sync with the music.Bass, mid-range and treble show separate colored light. By dragging the light intensity sliders, you can perfectly control how the lights react to the music.
Extraordinary media experiences
A click on the screen sync button and your LED lights' color and intensity will mimic what is shown on screen. The luminance and atmosphere of the on screen action will stretch out and embrace your whole room. A unique lighting effect that will make you feel as if you are part of the on screen action.
Entertainment for your living room and whole house
Moodifier transforms your media center or home server into a powerful entertainment system for the living room and the whole house.
On busy weekdays the lighting simply takes care of itself through automated scheduling. At weekends you can enjoy extraordinary movie experiences or maybe make your whole living room an extension of your favourite computer game. If you are a party animal, you can easily transform your living room into a full-blooded night club with a touch of your iPhone.
Lighting scenarios and effects
Create your own stunning timed light scenarios and effects with 1/100 of a second precision. A light scenario is a chain of timed light events. It lets you activate a series of light settings as a timed playlist. Light scenarios can be used for many things from simple activation of one or more light settings to the creation of spectacular light shows and effects.
Full IP-camera integration
IP-cameras can be seen as super intelligent IP based occupancy sensors on steroids. With both PIR sensors, advanced video detection and built in scheduling they make a giant leap forward when it comes to smart occupancy monitoring.
Moodifier´s IP network foundation and unique features enables full IP-camera integration that in turn takes automated smart lighting control to the next level.
An IP-camera can easily be configured to monitor a room or area and, based on motion detection in the room as a whole or any part(s) of the room, it can activate light scenes or execute light scenarios.
Moodifier Remote - web interface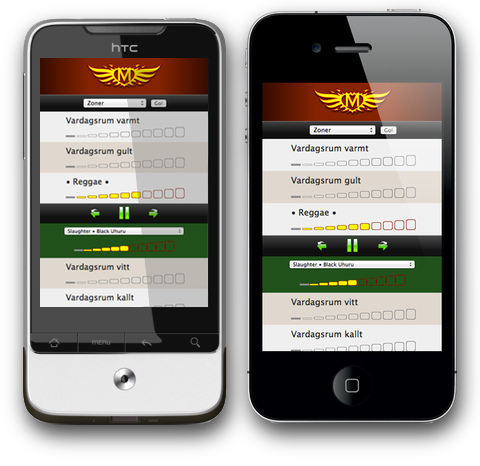 The Moodifier application also has a powerful built-in web server and web interface that allows you to use any network-connected device as a remote control for your lighting. Moodifier Remote gives you quick access to all your light settings no matter where you are. works with any device, iPones, iPads, Android phones and or laptops and remote computers.
Moodifier Remote lets you remotely control all Moodifier functionality including light settings/scenes, zones, light scenarios, IP-alarm, status monitoring as well as remote music and video streaming.
Moodifier Remote is always available on the local network in your house, but can also be made available over the public Internet so that you can set your lighting wherever you are.
Moodifier Remote can of course be password protected so that only authorized people can control your lighting.